Product Catalog > Retail Catalog > Juggle
Juggling Supplies and Props
15% SITE-WIDE SALE ON NOW!
Welcome to the Flying Clipper juggling store! We have a great selection of juggling supplies and props, specializing in our hand-made juggle balls!
Our Tossaball® juggle balls are made from durable high visibility ultra leather and ultra suede and are as round as a hand-made juggle ball can get. With many different sizes and styles of juggle balls to choose from, we know you'll find just what you need for an extraordinary juggling experience. We also have learn to juggle videos and great juggle scarves perfect for beginners!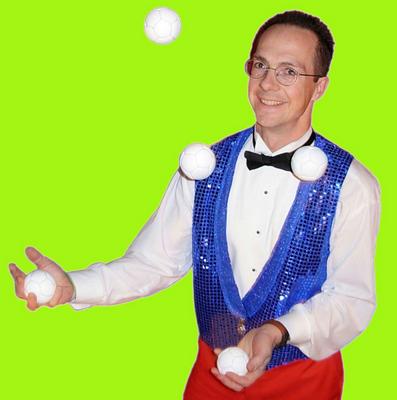 Photo: Professional juggler Rhys Thomas..."I've used Flying Clipper juggling balls for performance and practice since the early 90's. Some of those first balls still look new and boy do they know a lot of tricks"

Here are links to Rhys Thomas' juggling act, in a theatre performance and at a festival. Rhys shows how excellent a juggler can be, with high quality juggling props and a little bit (OK, a lot!) of practice.